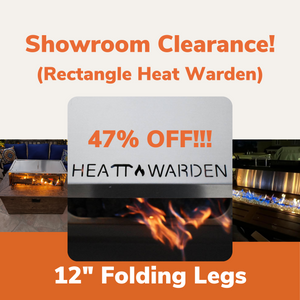 Retail Display Models (Rectangle Heat Warden) Clearance Sale! Save 47% OFF!
Sale price Price $119.99 Regular price $259.99
Showroom Retail Display Models - Save More!
32" x 16" with 12" legs.
We updated our partners showroom display models this week and have a VERY LIMITED SUPPLY of units available deeply discounted to 47% off!  (Retail Price $259.99)
Each unit comes with its own characteristic of a possible scratch, dented corner, unique blemishes, etc. 100% functional, just not 100% brand new.
You may have a hard time figuring out what the blemish is. 
Get Them While They Last!
When They're Gone, They're Gone!
(Item Will No Longer Show As Available To Purchase When Remaining Units Are Sold Out)