What is different about Heat Warden®️? Quality, Quality, Quality
QUALITY AMERICAN MATERIALS - It's important that we use only 304 grade stainless steel. Why? Anything else will most likely warp or bend over high heat in a short period of time. Especially aluminum. PLUS, we use American Stainless Steel hardware and handle, with custom made foldable steel legs ,
QUALITY AMERICAN CRAFTSMANSHIP - Individually crafted in our shop in Phoenix, Arizona not in a massive factory in China.
QUALITY AMERICAN CUSTOMER SERVICE - Talk to the owner! I'm here to answer your questions by phone, text, email, or chat. See menu above.
The HEAT WARDEN®️ CAPTURES the heat. PROTECTS awnings, gazebos, decks, and roofs. SAVES you money on propane, gas, and wood.
COMPLETE FIRE PIT SYSTEM! INCLUDES: Top HEAT DEFLECTOR & 3 SIDE SHIELDS for Ultimate Heat Capture.
"GAME CHANGER!" Transform your standard outdoor fire pit into an elegant heat machine with the Heat Warden® Fire Pit System! Captures, controls, and directs the MOST HEAT.
Shop Now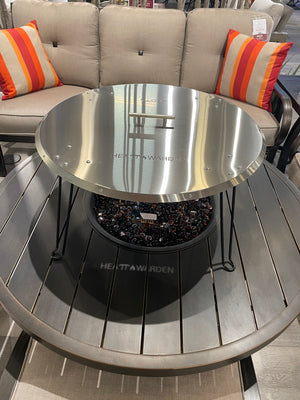 NOW AVAILABLE! NEW! Heat Warden®️ USA Quality 26" ROUND Heat Deflector with 12" Foldable Legs. (See menu above for Specs.)
Sale price Price $188.99 Regular price $268.99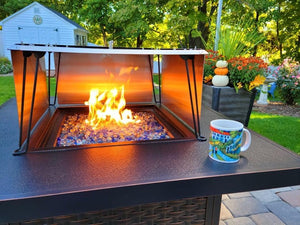 Heat Warden® USA QUALITY 24"x 24" SQUARE Heat Deflector with 12" Foldable Legs. (See menu above for Specs.)
Sale price Price $168.88 Regular price $239.99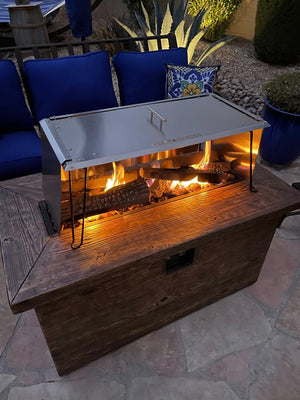 Heat Warden® USA QUALITY 32" x 16" RECTANGLE Heat Deflector with 12" Foldable Legs. (See menu above for Specs.)
Sale price Price $187.99 Regular price $259.99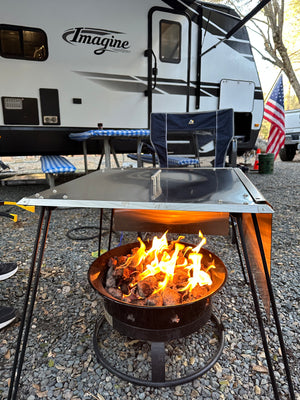 The New "MUST HAVE" for Camping. Heat Warden® USA QUALITY 24"x 24" Camping Square Heat Deflector with 24" Foldable Legs. (See menu above for Specs.)
Sale price Price $189.99 Regular price $269.99
Heat Warden®
Premium
Side/Back Shields ONLY. Pop on/off in seconds as needed.
Capture up to 75% more heat. The Heat Warden Heat Deflector is sold separately from Side/Back Shields. If you want to save $$$ check out our bundles!
SHOP HERE NOW!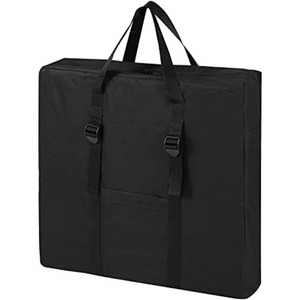 NEW!!! Heat Warden®️PREMIUM Travel & Storage Case
Sale price Price $69.00 Regular price $99.00
BUNDLE and SAVE!
Shop our BUNDLES and SAVE MONEY!
Buy a selection of two or more of our amazing products together and we'll give you a discount at checkout.
SHOP HERE NOW!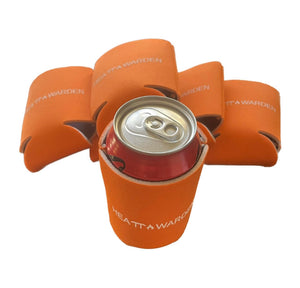 FREE!!! Heat Warden Koozie With Your Order - Add More For Your Friends For ONLY $1.99
Sale price Price $1.99 Regular price $5.99
The Heat Warden (Our) Story
Growing up in the Northeast, our family always had wood fire pits. We loved sitting around with family and friends sharing laughs and enjoying the heat the fire provided. When my wife Peg and I moved to Arizona we were forced to buy a gas fire pit due to fire restrictions. The fire pit was nice, but we quickly realized that it didn't provide the heat we were used to. The desert may be warm during the day, but cools quickly at night. I searched online to see what was available to help but discovered nothing existed.
That next weekend I decided to solve my problem and create something to capture the heat. (hence the name Heat Warden) Back then no one had even heard of a heat deflector. In fact I had to figure out what to call it. Heat reflector? Heat diverter? Heat shield? Heat deflector? I made it out of an aluminum garbage can lid on top of a tomato stand cut in half. I sold them online for a while, but they had little eye appeal and were not very sturdy. After several prototypes and improvements over the next several years, the present day Heat Warden® PREMIUM Heat Deflector was born.
Made of AMERICAN 304 STAINLESS STEEL and custom made collapsible steel legs. I was asked early on if I wanted to have it Made in China, but I refused. The Heat Warden brand now keeps family and friends warm across the United States and Canada. We continue to be innovative in order to expand and improve our AMERICAN product line.
Thank-you in advance for supporting small business along with firefighters and their families with your purchase.
Warm wishes & God bless,
Mark & Peg
Family Owned & Operated since 2017
Not sure yet? Still have questions? Visit The Heat Warden® Owners Group.
Check out what Heat Warden Owners think about their Heat Warden. See their stories and pics. Ask a question! Already an owner? Please join and share pics and videos.
Join The Heat Warden Owners Group On Facebook!
Warm Wishes,
Mark & Peg
Product Liability
This equipment must be used with care by capable and competent individuals under supervision, if necessary. The use of any equipment, including this one, involves the potential risk of injury. You accept and assume full responsibility for any and all injuries, damages (both economic and non-economic), and losses of any type, which may occur, and you fully and forever release and discharge Patio Family LLC (Heat Warden), its insurers, owners, employees, officers, directors, associates, and agents from any and all claims, demands, damages, rights of action, or causes of action, present or future, whether the same be known or unknown, anticipated, or unanticipated, resulting from or arising out of the use of said equipment. PATIO FAMILY (HEAT WARDEN) WARRANTS PRODUCT FOR 30 DAYS FROM DATE OF PURCHASE AS LONG AS PRODUCT IS RETURNED IN ORIGINAL CONDITION. PATIO FAMILY (HEAT WARDEN) MAKES NO WARRANTY IN RESPECT TO MERCHANTABILITY OR WARRANTY OF FITNESS FOR A PARTICULAR PURPOSE, WHETHER EXPRESS OR IMPLIED BY LAW, COURSE OF DEALING, COURSE OF PERFORMANCE, USAGE OF TRADE OR OTHERWISE. BUYER ASSUMES ALL LIABILITY IN USE OF THE EQUIPMENT.
A portion of each sale supports the Phoenix Fire Foundation
Donations go towards providing equipment, training, technology, educational materials and programs to support our first responders, helping them keep residents safe. Thank you for your support!
https://www.phoenixfirefoundation.org/donate/
Heat Warden® has a registered Patent and Trademark by the USPTO.
All rights reserved. Patent and Trademark by the US Patent and Trademark Office through the Law Office of IPTech Law LLP Phoenix, Arizona.