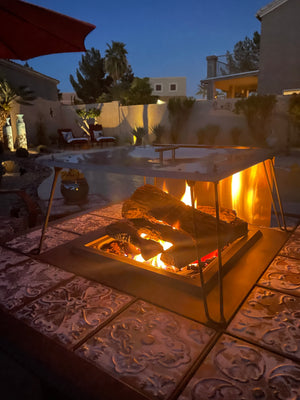 Heat Warden® USA Side Shield - GOOD Heat Retention and Direction. One side shield for square or camping top heat deflector (sold separately)
Sale price Price $79.00 Regular price $89.00
The Heat Warden® USA Heat Retention and Direction Side Shields put you in total control! Scroll down for more pictures. The Heat Warden Heat Deflector is sold separately from Side Shields.
Side Shields attach or remove instantly with just two screws!
Now you have even more control of your gas fire pit heat with the Heat Warden Side Shields.  The Heat Warden Side Shields are the perfect solution to those breezy nights blocking the wind and directing the heat where you want it to go.  These Side Shields compliment your AMERICAN stainless steel Heat Warden Heat Deflector with unmatched durability.    
Only two of you sitting around your gas fire pit?  Don't let the wind blow out the flame!  The Heat Warden Heat Shield pushes even more heat in your direction while keeping the flame going, making those memorable nights last even longer.  
Looking for a way to cover your gas fire pit when it is not in use?  The Heat Warden Heat Deflector not only can cover your gas fire pit glass, logs, rocks, and other decorative beds it does so with an elegant stainless steel conversation piece.   
The Heat Warden heat deflector Is sold separately 
Free shipping to the continental United States. 
Shipping to Alaska, Hawaii, and Canada, available at an additional fee. Message us.
We proudly support Fire Fighter Aid with a portion of each sale being donated to support firefighters and their families in times of need.
#HeatWarden #HeatWardenShield #MADEINTHEUSA #GasFirePit #OutdoorFirePit #SaveTheGazebo