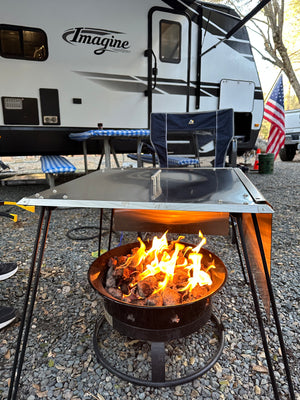 The New "MUST HAVE" for Camping. Heat Warden® USA QUALITY 24"x 24" Camping Square Heat Deflector with 24" Foldable Legs. (See menu above for Specs.)
Sale price Price $189.99 Regular price $269.99
A NECESSARY ADDITION TO YOUR CAMPSITE.
Designed for camping fire bowls and smokeless fire pits.
Benefits: Captures the heat to keep friends and family warm. protects your awning, keeps coffee and condiments warm, 
24" Foldable legs for easy storage. "Feet" are 31" apart, 42" diagonally.
Weighs approximately 16lbs.
Approximately 4" high when folded.
Storage case available
Sides available to capture up to 75% more heat.
See Menu above (three stacked lines) for more Specifications and details.