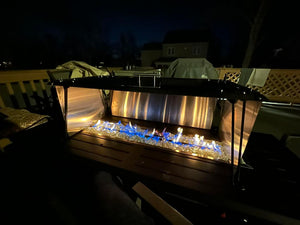 Heat Warden® USA Rectangle Heat Deflector Fireplace System! (1 Heat Deflector, 1 Back Shield, 2 Side Shields)
Sale price Price $297.99 Regular price $529.97
This Is The Complete System!
Turn your outdoor fire pit or fire table into a fireplace deflecting the heat where you want it most towards you not the stars!  Now you can feel the true heat from your fire, keeping you warmer and making the nights last longer.
The Heat Warden® USA Fireplace heat retention system puts you in total control! 
Includes:
1 Heat Warden® USA Premium Rectangle Heat Deflector 
1 

Heat Warden® USA Premium Back Shield 

2 Heat Warden® USA Premium Side Shields 
ONLY $297.99 + Includes FREE SHIPPING* (*contiguous 48 states) buy direct & save!
MSRP $529.97 
Back & side shields easily attach or removes instantly with just two screws!
The Heat Warden fireplace system is the perfect solution to those breezy nights by blocking the wind, and pushing more heat in your direction while keeping the flame going, making those memorable nights last even longer.    
Heat Warden® USA  Rectangle Heat Deflector Description:
Proudly made in the U.S.A (Phoenix, Arizona).  The Heat Warden® PREMIUM RECTANGLE Heat Deflector is designed to fit the majority of RECTANGLE outdoor fire pits.  Heat Warden® is the industry pioneer & leader when it comes to outdoor fire pit heat deflectors not to mention saving back patio roofs & gazebos. 
The 18 gauge industrial grade AMERICAN 304 stainless steel outdoor fire pit PREMIUM RECTANGLE heat deflector with stainless steel handle adds beauty and strength. This sturdy 12 lb. unit is built to last for many years around your outdoor fire pit sharing good times and friendly conversations. Plus, the clean look of AMERICAN stainless steel is the perfect addition to any backyard décor.
Dimensions: 32" long x 16" wide x 12" high.  The hardened carbon steel legs easily fold flat for quick storage and with a weight of only 12lbs, The Heat Warden® PREMIUM RECTANGLE Heat Deflector can be placed over your outdoor fire pit as an elegant stainless steel cover when not in use.  
Free shipping to the continental United States. 
Shipping to Alaska and Hawaii available at an additional fee. Message us.
We proudly support Fire Fighter Aid with a portion of each sale being donated to support firefighters and their families in times of need.